Planning a visit to a national park? While they may seem like wide-open expanses of wilderness outside of the reach of civilization and its laws, this isn't at all the case. Just like anywhere else, there are rules and laws that visitors have to abide by. In some cases, not following the rules can get you a scolding or even get you removed from the park. In others, failing to follow the law can lead to a ticket, or worse, arrest.
Keep reading to learn 7 things that you can't do in national parks so you make sure that you follow the law during your next visit.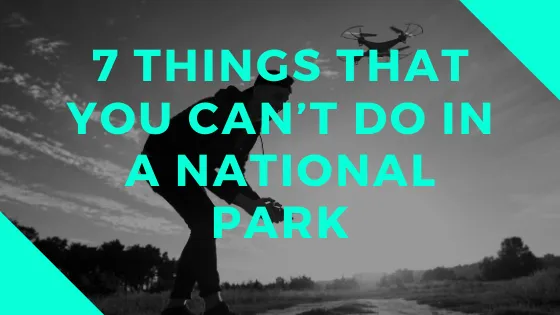 1. Start Fires in Undesignated Areas or During a Ban
Wildfires are a major threat to many national parks. In just the last few years, several national parks, including the Great Smoky Mountains and Yellowstone, have lost dozens of acres of plantlife to wildfires.
Some fires are natural. Often caused by lightning, these help clear old undergrowth and make way for new plants to flourish. But wildfires caused by human negligence not only destroy park land, they can also damage buildings or even lead to loss of life. When they burn beyond park boundaries, they may threaten homes and communities as well.
If you're hiking or picnicking in a national park, always make sure that you know the park's fire rules. These may vary from one park to the next. Some allow campfires as long as they are contained, while others require you to only start fires in designated containers. Fire bans, usually in place when conditions are dry, make all fires illegal. Failing to follow the rules or breaking a fire ban can lead to fines and arrest.
2. Speed
Now that December is here, Zion's Scenic Drive is open to personal vehicles. It will remain that way until the shuttle system returns briefly around the holidays before cars are once again allowed. While taking a cruise through the park is a must during your winter visit, make sure that you are obeying all posted speed limits.
Whether you're coasting down a mountain in Zion or zipping through the endless wilderness in a remote national park like Gates of the Arctic, there are always speed limits in place. These aren't just there to keep tourists in check; steep elevations, winding roads, frequent rock slides, and abundant wildlife can make park roads particularly dangerous.
3. Drink and Drive
Speeding isn't the only illegal thing you might do behind the wheel in a national park. While some parks do allow, or even serve alcohol, and it's fine to enjoy a drink during your visit, make sure that you have a designated driver ready to climb behind the wheel.
While drunk driving is never legal, trying to navigate the winding, steep, and narrow roads under the influence puts not only your family and your own safety at risk but also the lives of other families enjoying their visit to the park.
4. Flying a Drone
The chance to capture stunning photos is one thing that draws many visitors to national parks across the country. However, while cameras are allowed in most places, drones are not.
Due to concerns about security, safety, and encounters with wildlife, the National Park Service has banned the use of drones in, around, and over any national park properties. This includes national parks, monuments, historical sites, etc. Flying one, for personal or commercial purposes, can lead to steep fines and other penalties. Fines may even exceed $1,000.
5. Interacting With Wildlife
There are plenty of laws out there that are easy to break if you aren't aware of them. For instance, if you get a brand new drone for Christmas and have never used one before, you might have no idea that you can't fly it in a national park.
But other laws are obvious because what they are outlawing is clearly dangerous. This is one such law. Touching, feeding, or otherwise interacting with wildlife of any kind is not only illegal but also incredibly dangerous. Even small, seemingly harmless animals like rock squirrels can still bite and may carry dangerous diseases.
6. Taking Home Natural Souvenirs
There are plenty of stores in Springdale where you can shop for wonderful souvenirs, like art from local artists or cool t-shirts. If you want gear to help you remember your park visit, you can also shop at the Springdale Visitor Center or Zion's visitor center. You can take home all of the t-shirts, ornaments, art, and other purchased souvenirs you'd like. But think twice before you pick up rocks, plants, or any other natural souvenirs from the park.
Removing any natural resources from a national park is illegal. Leave rocks and plants, or even downed branches, where you find them to keep from disturbing the plant and animal life that call the park home.
Staying Safe and Legal in the National Parks
These are far from the only rules and laws you need to follow while visiting a national park. But these are an excellent start. You can find other laws, as well as any rules specific to the park you're visiting, by stopping by the park's visitor center or checking their website before your visit.