No matter the age or experience level of the people joining you on your vacation, planning an outdoor adventure of any kind is tough. Odds are, each individual has their own style of traveling. They may be prepared to tackle a certain difficulty level of hiking, while another member of your group may be dreaming of taking on the hardest hike they can find. Even choosing where to eat can be a challenge if you have 3, 5, 10, or even more friends or members of your family along.
Add in short legs that tire easily and even shorter attention spans, and planning that dream outdoor vacation can seem like a nightmare.
Children make planning any type of vacation just a bit more difficult. Kids are constantly changing their minds about what they like or don't like, and their attention spans and energy may wax and wane faster than you can even keep track. Long hiking trails may seem out of reach–both physically and mentally. But short hiking trails may leave your little ones with way too much energy they'll need to then burn out when you head back to your room for the night.
Does all of this mean that you should never plan an outdoor vacation with your kids? Definitely not. But if does mean that you'll need to do a bit more planning and prep to make sure that things go off without a hitch. Keep reading for 6 tips to help you plan an active outdoor vacation everyone will enjoy.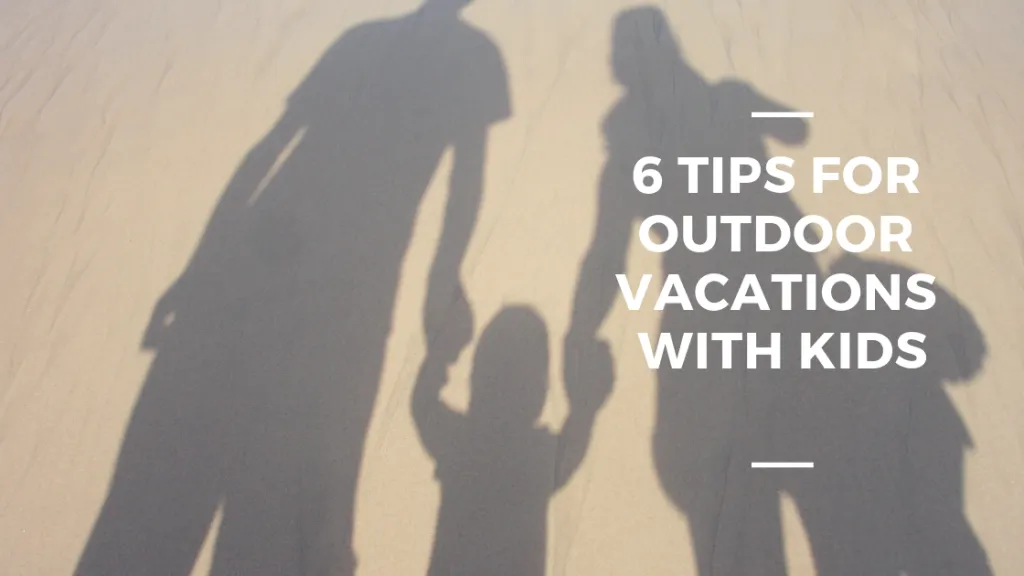 1. Do Your Research
When you're hiking with a friend or your spouse, you likely already have an idea of exactly what he or she, and you, can handle. You can easily show up at a park, stop by the visitor center to grab a map, and set off on a hike you've never heard of, having only read a short description of it.
With kids, things get a bit more tricky. Is that trail rated "moderate" because of its length, or is it because of treacherous rocks or cliff faces you'll have to traverse? Will that easy trail really take just an hour, or will there be side trips that could stretch it into 2 or 3?
Researching trails ahead of time will allow you to make a list of what you do and don't think that your kids can handle. Your itinerary doesn't necessarily need a strict timeline. In fact, save yourself the stress of falling behind by not doing this. But it should include a detailed list of hikes or other outdoor activities that you think are a good fit for your family.
2. Let Kids Help You Plan
While you should be the one researching and ultimately choosing which hikes will and won't work for your family, it's never too early to get kids involved in planning your vacation.
Talk with your little ones about what they would like to do on your vacation. Research the parks or other attractions together. Scroll through photos and videos online posted by other travelers, and discuss what looks fun to each member of your group. When kids are involved in the planning process, they'll be much more likely to be happy and engaged during the actual trip.
3. Give Yourself Some Space
In your plans, that is. Even though you aren't creating a strict timeline, you might still be tempted to make a list of things you want to tackle in a day While this is fine, it's still a good idea to give yourself plenty of wiggle room in case you can't get to everything. 
You never know when a short trail might turn into hours of playing in a stream or spotting wildlife. If you try to squeeze too much on your list for the day, you'll only wind up disappointed.
4. Park Smarter, Not Harder
As a parent, you know that letting your kids pack their own bag for your trip is a big mistake. Even older children are prone to forgetfulness. Even though you can always buy replacement underwear or new clothes once on your vacation, its much easier to come armed with everything you need.
Rather than worrying about whether or not everyone packed what they need, set yourself up for success by creating packing lists for each family member. Include two boxes for check-marks at the end. In the first column of boxes, have your child check off each item as they place it in their bag. Then in the second column, you'll check off each item as you go through his or her bag to make sure everything made it in.
5. Bring Along Some Fuel
Besides packing plenty of water–and then a bit extra–for each of your children, it's also a good idea to pack some snacks. Whether you end up using these snacks to tide over little tummies until lunch time or as a way to keep them happy and occupied when boredom sets in, you'll be glad you packed them.
A few simple trail snacks include small apples, gummies, applesauce in pouches, crackers, and fruit skins.
6. Give Your Kids a Challenge
Many parents shy away from challenging their kids, especially when they're young. But the reality is that kids are often more resilient than we think. Choose too easy of a hike and you'll likely end up with a grumpy, bored little one. Help them break out of their comfort zone with a hike that they need to work a bit to complete and you'll have a happy child who's also ready for bed when you get back to your room!
Planning the Perfect Family Trip
Zion National Park and the surrounding area are the perfect destination for a family-friendly vacation. Opt for a vacation rental to give everyone in your group the space they need, as well as a kitchen and living space that you can use to make meals together or spend some quality time together after a long day of hiking. Then, put these tips to use to plan hiking, exploring, and more that everyone will love, regardless of their age!